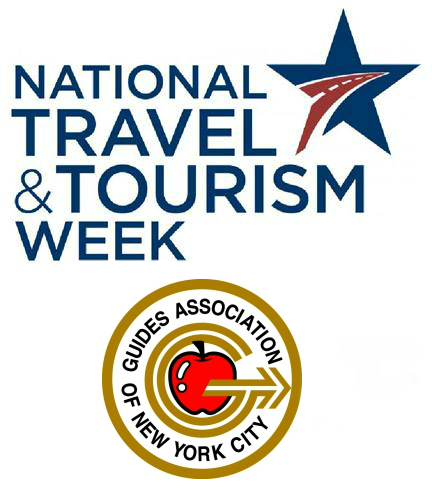 National Tourism Week was established by a US congressional resolution in 1983, and serves to champion the power of our industry. Travel and tourism professionals from across the nation work throughout the week to promote the impactful contributions their travel markets and organizations make to the U.S. economy. The 2017 dates for this annual week are May 7-13.

The Guides Association of New York City (GANYC) will celebrate this week by offering a number of free tours from our member guides. GANYC is one of the oldest and most active tour guides associations in America, and all our members are licensed by the Department of Consumer Affairs. 

What follows is the list of (free) tours being offered by GANYC members between May 7-13. Below the listings, you will find the bios of our member guides who have volunteered their tours for the event.
Please RSVP using the email links provided.

[Note: While all listed tours are free to attend, any additional expenses-- including transportation to and from the tours, food and beverage purchases, and ticket fees to accompanying institutions-- are not included.  Showing your appreciation for your guide in the form of gratuities (tips) is customary and appreciated.]
 
Sunday, May 7
10:00am-12:00pm: Central Park Selfie Tour
If you are looking for a fun and original family adventure, then look no  further. The selfie tour is a fun unique way to capture the beauty of  the city while not being left out. Our smartphones are incredible tools  for great photography, even the most basic ones can create spectacular  images. Join us for an educational and fun time in Central Park. Improve  your mobile photography skills and take some memorable selfies in front  of stunning backgrounds while getting historical, architectural and  lesser known facts about Central Park!
Meeting spot: 50 W 72nd St, New York, NY 10023; I will be holding the sign: All New York Fun Tours outside of Le Pain Quotidien.

[Guide: Ibrahima Diallo]

RSVP Link.
(Step 1- click on rsvp link, 2- Follow booking steps then 3-  use code: ganyc to get complimentary ticket)
 
2:00-3:30pm: The Magical Mosaic of Rockefeller Center Tour
Learn to look up and savor all aspects of New York City with "The Spirited  New Yorker," who gives multi-faceted tours and lectures to travelers  from around the world for twenty-five years.  Formerly affiliated with NBC, Sybil Groff is a cultural historian and legendary expert on Rockefeller Center and Christmas.  

The most important urban complex of the twentieth century, this is the first landscaped complex, which was created for commerce but conceived  with art.  With about twenty buildings, this "city within a city" was built by John D. Rockefeller in the 1930s. Come and learn about this fascinating New York Landmark and treasure trove together, with some fun too.

Meeting spot: in front of or inside the lobby of 30 Rockefeller Center - the flagship  building between 49th and 50th Streets.  The tour guide is diminutive and will be wearing red!  

[Guide: Sibyl Groff]

RSVP Link. (Email)
 
5:30pm: World Trade Center Tour
Take a two-hour tour of the World Trade Center area, starting at historic St. Paul's Chapel! This tour will teach you how history, present, and future are colliding at this key downtown site.


.


[Guide: Gwen Anne Strum]


.


RSVP Link. (Email)

Monday, May 8

Tuesday, May 9
9:30am: Riverdale and Fieldston Walkabout
Experience the "Bronx Gold Coast"! This charming neighborhood with its winding streets and Hudson. River views is home to Wave Hill and many lavish mansions. On this walk you will learn the history of the neighborhood, visit a Renwick church and the historic Bell tower and a park that honors Henry Hudson. 

We will meet at the Spuyten Duyvil Metro North station at 9:30 AM and wend our way up to the Riverdale Metro North station. Tour lasts 2-3 hours.

[Guide: Susan Birnbaum]

RSVP Link. (Email)
(Tour is limited to 15 people.)
 
10:00am: Explore Downtown's Lost Neighborhood
Preservation activist, Joe Svehlak whose family lived in Downtown Manhattan in the early 1900s, will lead you on a Lower West Side tour and reminisce about this former unique immigrant neighborhood. Did you know that the Lower West Side used to be one of New York's most diverse immigrant neighborhoods? In 1917, a news article noted the presence of 27 nationalities in this small compact area. From the 1840's to 1960's, waves of Irish, German, Middle Eastern, and various Slavic immigrants settled north of the Battery. Lower Washington Street was the heart of the Syrian Quarter, also called "Little Syria", the first major Arab settlement in the United States.

 

Few remnants of this neighborhood still exist, due to the construction of the Brooklyn Battery Tunnel in the 1940's and the World Trade Center in the 1960's both built by confiscating land through eminent domain. The neighborhood is continuing to disappear with the new construction after 9/11.

 

View the former St. George Melkite Church, the Downtown Community House, some Federal style townhouses and the few remaining tenements. Hear stories of the diverse people who lived here together in one of New York's great neighborhood melting pots. Learn about the problems facing current residents as they fight to preserve the last significant remaining buildings.

.

[Guide: Joe Svehlak]

RSVP Link.

 (Email)
10:00am-12:00pm: Sailors Snug Harbor Cultural Center (Staten Island)
Nestled along the Kill van Kull was a home for retired seamen, Sailors Snug Harbor. Opened in 1833, it covered 103 acres and housed more than 1,000 seamen. The grand Greek Revival style buildings on the remaining 83 acres have been secured as a national legacy for generations to follow. On your stroll you will also enjoy the beauty and fragrance of the botanic gardens.
Meeting spot: Take the 9:30 ferry from Whitehall Terminal, meet at St. George Ferry Terminal outer lobby, at the Information sign.
.
[Guide: Claude Toback]
.
RSVP link. (Email)
11:15am-1:15pm: Haunted Broadway Theatre's Walking Tour (Times Square)

Do you find yourself humming creepy tunes like the theme from The Addams Family *snap snap* or find yourself randomly doing the Time Warp again?  Then this is the tour for you! Join us as we explore the spookier side  of Broadway. Visit legendary haunted theatres and locales where those  denizens of the dark and famous Vaudeville/Broadway stars still take to the stage long after the curtains have closed and after the ghost lights have been turned on. Sing along to famous dark musicals like Jekyll and Hyde, Sweeney Todd, Evil Dead, Carrie (which was so scary it only had 5 performances!), Ghost, Little Shop of Horrors, Phantom Of The Opera and more.

.

Learn dance moves from Rocky Horror's Time Warp or Michael Jackson's legendary Thriller dance! Get a chance to be a Broadway STAR by singing along to your favorite Broadway musicals with your tour guide! You can purchase an additional add on to have a palm/energy or tarot  reading done by Gypsy Amada. Let her know before the tour starts!

.

Meeting spot: West 41st and 7th Avenue in front of the Red Lobster. (5 Times Square)

.

[Guide: Amada Anderson]

.

RSVP Link

. (Email)

(Tour limited to 20 people)  

12:30-1:30pm: Exploring Little Italy in the Bronx
A stroll down and around Arthur Ave. bopping into the shops specializing in homemade mozzarella, ravioli, delicious baked goods and soccer jerseys. We will also visit the neighborhood library which showcases Italian-American heritage.


.


Meeting spot: In front of Full Moon Pizza corner of 187th St. & Arthur Ave.


.


[Guide: Maggie Browne]


.


RSVP Link. (Email)
 
3:00-4:30pm: The Magical Mosaic of Rockefeller Center Tour
Learn to look up and savor all aspects of New York City with "The Spirited  New Yorker," who gives multi-faceted tours and lectures to travelers  from around the world for twenty-five years.  Formerly affiliated with  NBC, Sybill Groff is a cultural historian and legendary expert on Rockefeller Center and Christmas.  

The most important urban complex of the twentieth century, this is the  first landscaped complex, which was created for commerce but conceived  with art.  With about twenty buildings, this "city within a city" was built by John D. Rockefeller in the 1930s. Come and learn about this fascinating New York Landmark and treasure trove together with some fun too.

Meeting spot: in front of or inside the lobby of 30 Rockefeller Center - the flagship building between 49th and 50th Streets. The tour guide is diminutive and will be wearing red!  

[Guide: Sibyl Groff]

RSVP Link. (Email)

Wednesday, May 10
10:00am-1:30pm: Jackie Robinson's Brooklyn
It is said that if Jackie Robinson was the ideal man to integrate baseball, then Brooklyn was the ideal place. How was Brooklyn the ideal place? No other major league team - no other major league community - in 1947 was willing to sponsor the sight of a black man on the field. Brooklyn welcomed it. The sites of Dodger celebrations, the Rickey-Robinson meeting and Ebbets Field help in understanding the story. 

 

As modern baseball's first black player, Jackie Robinson forced the nation to begin addressing racism well beyond sport. Largely traceable to Robinson are the integration of the military, of public schools and of American society generally, and the Civil Rights Act itself. The first obstacle was baseball's hierarchy: in a secret meeting just before Robinson joined the Brooklyn Dodgers in the spring of 1947, the owners voted 15-1 against. Brooklyn was alone.

 

The drama unfolded in the little ballpark in the heart of Flatbush.

.

[Guide: Peter Laskowich]

.

RSVP Link

 (Email)  

10:30am-12:00pm: The Bird Murals of John James Audubon's Neighborhood

The Audubon Mural Project is an exciting effort to create murals of 314(!) birds in the Northern Manhattan neighborhoods of Hamilton Heights and Washington Heights. The great naturalist James John Audubon lived and died in this area. We will walk along Broadway and Amsterdam Avenue between 146th Street to 155th Street. In addition to seeing about 20 murals, we will visit Audubon's impressive gravesite in the Trinity Church Cemetery at 155th and Broadway. Since all of the birds painted are endangered species, the murals project is designed to help us not only appreciate the beauty of the birds, but also to be aware of the challenges that these wonderful creatures face. Binoculars will be an asset on this walk.

.

Meeting spot: at Hamilton Bakery, 3570 Broadway between 146th and 147th Streets.

.

[Guide: Maggie Browne]

.

RSVP Link.

 (Email)  

1:00pm: Gay Village Walking Tour
Walk About New York's Gay Village Walking Tour will take you to the houses, places of business, bars, and art  installations where the LGBTQ community has lived, loved, partied and worked over the past 130 years in Greenwich Village, New York's most  storied neighborhood. Many of those stories involve the men and women of  this community.


.


Meeting spot: Meet in front of 55 Fifth Ave, corner of Fifth Ave. & E. 12th St.


.


[Guide: Phil Desiere]


.


RSVP Link (Email)
 
2:30-4:30pm: Betty Smith's A Tree Grows in Brooklyn Tour
Walk in the footsteps of Francie Nolan and the rest of the characters from the timeless New York coming-of-age tale, A Tree Grows in Brooklyn! This tour focuses on East Williamsburg, Brooklyn where author Betty Smith and her protagonist Francie Nolan both came of age. We will delve right into the novel, reading Smith's passages in the very locations they describe.  As we walk the streets that the author herself walked as a child–streets she then went on to incorporate into the  semi-autobiographical book–we can imagine young Francie learning about the world through the lens of Brooklyn.  Some landmarks remain including churches, libraries, tenements and of course, the great Williamsburg Bridge.  And yet much has changed since 1917–the construction of public housing towers, the recent arrival of  trendy young "hipsters," and the transition to Spanish as the language  of the street, replacing the German, Italian and Polish of Francie's day. The book will celebrate its 75th Anniversary in 2018!
 
NOTE: This tour will include 1 subway ride which attendees must pay for themselves. 

Meeting spot: In front of Kellogg's Diner, 518 Metropolitan Avenue, Brooklyn

[Guide: Michael Morgenthal]

RSVP Link. (Email)

Thursday, May 11

Friday, May 12

Saturday, May 13
9:00-11:00am: Early New York
What was New York when the Europeans arrived? Who came? What was here, what did they do with it and how does it matter? Manhattan became a base of operations because of a series of features found nowhere else: a vast harbor, an ice-free port, hills and valleys offering both protection from enemies and access to the interior. In the 1660s a colonist wrote, "It is as though God intends the trade of the world to locate here," and in the 1780s, when New York was home to a mere 25,000, George Washington said it was destined to become the great city of the world. 


.


Remnants of these hills, streams and forests suggest the influence of pristine Manhattan on the city, the nation and the world. The founding Dutch left the area 350 years ago but their imprint remains an active influence, their world-view an indelible part of the city. Dutch use of resources that made New York's rise a certainty affects and even determines our actions to the present day.


.


[Guide: Peter Laskowich]


.


RSVP Link (Email)
 
12:00pm: Central Park Pokemon Go Tour
This is tour of Central Park for adults and their PokemonGO-playing kids. It is a family tour. Adults are taken around the park in a tour that shows off the finest of the park's architecture and landscaping. Kids and  teenagers, meanwhile, are guided from pokestop to pokestop, finding places to collect Pokemon and 'battle' them at several gymnasiums scattered around the park. Everyone has a great time. Win-Win! 

The tour route goes up and down steps. We'll walk over a mile in about two hours. Bring water, sunscreen, and a charger. At least one adult must accompany each group of children. 

[Guide: Stanley O'Connor]

RSVP Link. (Email)
 
12:00-2:00pm: New York During The Revolution
The American Revolution is a story of such daring and courage that it is still invoked everywhere. Every day New Yorkers pass by remnants of its desperation and its glory: damage caused by inspired patriots, a final remaining symbol of British authority, traces that led to the hanging of a schoolteacher who regretted that he had but one life to give. Charrings from a great fire as the British took over show the direction of the blaze and suggest how St. Paul's Church survived to become home base for the rescue workers of 9/11. It was one of two great fires that left most of the city in ruins. "New York is destroyed," said George Washington at the end of the war, "but its future greatness is certain." 
 
We'll see the site of his emotional farewell, and of his glorious return six years later. 

The great statue in the harbor also has much to say about the conduct of the Revolution, and how the horribly overmatched Americans eventually won. So do the world's first combat combat submarine and a metal chain protecting the colonies' most vital waterway. The Hudson River played a key role in a victory so stunning that upon surrender the British band played "The World Turned Upside Down." 

[Guide: Peter Laskowich]

RSVP Link. (Email)
 
2:00-5:00pm: Interboro Flagship
The "Interboro Flagship" tour tells the story of public transportation's role in the creation of two of New York City's neighborhoods and the important role public art plays in the city's culture.

 

The shaping of Midtown Manhattan had many factors, but arguably the most important is its two major transportation hubs, Pennsylvania Station and Grand Central Terminal, which give it its character by swelling it up with millions of characters every day and funneling them away every night. We focus on the creation of Grand Central Terminal and the multiple influences on  its evolution  - none more important to its past, present, and future than its cross-town rival, Pennsylvania Station. There is perhaps no greater example in New York City - or America - of a piece of infrastructure dressed as a truly great work of art than Grand Central Terminal. 

 

Coinciding with the rising of Midtown was the coming together of that village across the river, Long  Island City. The second leg of our tour explores the many intersecting influences on a neighborhood which would play a vital role in New York City's industrial development, the production of great public works  throughout the city, and the acceptance of multiple art-forms.  Currently in a building boom of its own, we venture through Long Island City's various landscapes, from its traditional manufacturing plants and working-class residential side, to its growing status as outer-borough neighborhood of choice for in-the-know young professionals.

 

The tour ends with a ride on the original interborough transit.
Meeting spot: 40th & Park, Northwest corner.

[Guide: Ben Paganelli]

RSVP Link. (Email)
 
Please note: All above tours require an RSVP in advance to attend.
If no meeting place is listed, contact the guide directly for this info when you RSVP.






​Guide Bios:
 
Aaron Tabackman: Originally from Connecticut, Aaron is the founder and owner of Urban Village Tours. His tour specialities include history tours, pub crawls, food tours, U.S. Open visits, personal shopping, and other borough visits. Aaron is currently the Co-Host and Producer of GANYS's podcast, "Destination New York," Aaron also serves on the Public Relations Committee of GANYC. He has six years experience as a double-decker guide for Gray Line City Sightseeing, and he is currently working on a one-person show about his experience as a pedicab operator in NYC.
 
Amada Anderson: Amada Anderson just celebrated living in New York for 9 years and has been a tour guide for 6  of those years. Being in New York with a musical theatre background has  opened up the city to Amada in a truly unique way. She has made TV  appearances for various lifetime experiences on: NBC's Today Show, CNN Money, Univision's Despierta America, WHTV's What's Happening NYC?, NYC Media's Under The Pink Carpet, QPTV's Sing, Sing, Sing! and The Sound Box, VH1's You Oughta Know featuring Artist Gin Wigmore, and CUNY-TV's Study With The Best.  She is a philanthropist and entrepreneur and when she is not donating  time for a cause you will find her working on her online businesses or performing on stage. 
 
Ayinde J. Stevens: Ayinde is a six year veteran of tour guiding. Ayinde cut his teeth in working on double-decker tour buses at Gray Line from 2011-2015. In 2016, Ayinde joined the Guides Association of New York, as a provisional member and in 2017 became a full voting member. Ayinde's interests includes late 19th and 20th-century New York, transportation history, Harlem, and architecture.
 
Ben Paganelli: Ben is a licensed New York City tour guide.
Bob Gelber: I am a native New Yorker, who  takes great pleasure in sharing my lifelong interest in the history and  the food of New York's diverse neighborhoods with visitors from around  the world and local residents alike. Over the past 8 years I have led many tour groups in neighborhoods like Chelsea, Meat Packing, Soho,  and the Lower East Side- Each time discovering hidden history and ethnic  eats.  New York is a city where on every street corner you can indulge  in the cuisines brought here by immigrants from all over the World. I am a volunteer at the Metropolitan Museum of Art for a number of years, and I am a veteran volunteer with Open House New York, an organization that celebrates New York's amazing built environment.
 
Claude Toback: Tour guide Claudia Toback began her tourism career after more than 40 years as a NYC public school science educator and professional developer.  She states that the transition was simple and admits to using her teaching skills to enhance her tours.
 
Emma Guest-Consales: Emma Guest-Consales, Ph.D. is an experienced guide and lecturer who has taught art and architectural history in New York City for over fifteen years. She is an official New York City Tour guide, Board Member and Chair of the IT Committee of GANYC. She is currently Tour Ambassador Captain at One World Observatory, at One World Trade Center.
 
Georgina Castanon: Georgina Castanon is the CEO and Co-Founder of award-winning Walk and Explore, helping governments and companies create Intelligent Experiences to WOW citizens and visitors. At FITUR, one of the most prestigious Tourism authorities globally, her product "New York Walk and Explore" obtained the 2017 AppTourism Award as the Best International Destination App in the World - available on google play and the AppStore.
 
Gwen Anne Strum: Gwen is a licensed NYC guide, and a cheerleader for Manhattan/NYC.


.

Ibrahima Diallo: Ibrahima Diallo has been a NYC Tourist guide since 2007. He is currently chair of the Multilingual Guides Committee of GANYC. For this Senegalese immigrant the city has been home for almost 2 decades. New York is a passion which he shares through his tours and photography.

Jeremy Wilcox: Jeremy Wilcox is a life-long New Yorker, and a 5-borough enthusiast (the history, geography, and secret spots), having lived in 3 of the boroughs. He specializes in walking tours, especially for those who are  looking for something off the beaten path. The beauty of New York is that no matter how many times you have  visited, or how long you lived here, there are always new places to  discover. There are few neighborhoods in this city he hasn't been to,  and he would love to help you discover those too.

Joe Svehlak: Joe Svehlak, licensed NYC tour guide and preservation activist,  has been walking Downtown Manhattan for over 70 years and has seen many changes in his lifetime. He is a founding member of the Friends of the Lower WEST Side and has given citywide tours for several other preservation organizations including the Municipal Art Society and the Historic Districts Council. A native New Yorker who had careers in finance and real estate, Joe gives custom tours based on architecture, social and ethnic history, planning and preservation, and his personal experiences of this great city.
 
John Semlak: John Semlak is a 5-year tour guide in New York City who specializes in  historical tours.  An encyclopedic baseball nut when he was young, he now follows sports from all over the world and loves to explore New York  City's sporting history.
 
Lee Gelber: A native New Yorker whose passion for his city was kindled by EB White's 'Here Is New York' has been a licensed New York City tour guide for 20+ years. Dubbed the  "Dean of Guides" by a New York Times travel writer Lee has trained a  sizeable percentage of the licensed New York City tour guides working today.
 
Maggie Browne: Born and bred in the Bronx Maggie has lived in  Brooklyn, Queens and Roosevelt Island as well. Before becoming a licensed NYC Tour Guide, Maggie worked for several NYC music and theater organizations as well as The New York Times. A passion for New York, food, music, theater, museums, the arts Maggie enjoys showing off our great city.
 
Mark Herdter: As the grandchild of 19th-century German and Irish immigrant children, I am very interested in the experience they shared growing up. I received my NYC Tour Guide license and am a member of the Guides Association of New York City. I am also retired from the Metropolitan Museum of Art and have lived in Manhattan for 40 years and been around Prince Street for almost as long.
 
Michael Morgenthal: Born  and raised in New York's Greenwich Village, Michael Morgenthal has been  a licensed sightseeing guide for over half a decade. With a background  as a newspaper reporter and magazine editor, Mike loves digging beneath  the surface and uncovering the hidden gems and authentic stories that  encapsulate his city–a passion he translates into one-of-a-kind tour  experiences for his guests. When not touring or continuing his quest to  eat in every dining establishment in NYC, Mike can be found on a golf  course or haunting local jazz clubs.


.

Peter Laskowich: Peter Laskowich indulges in his passion for New York by giving classes, lectures and tours of its history. Among the organizations that have sponsored his presentations are the Gotham Center, Columbia University and the Museum of Natural History. His commentary has been featured on radio and on television, and his course "Understanding New York City" proved especially popular at NYU's Osher Center. Mr. Laskowich is now writing a book on New York history - specifically the connections between the history of New York and that of baseball. He is a former nonprofit director, a registered tour guide, and a member of the California bar. 
Phil Desiere: Hi, I'm Phil, licensed to be a tour guide by the City of New York and a member of the Guides Association of New York City (GANYC). I began my guided tour business, Walk About New York to share my passion for the Big Apple with tourists and locals alike. I wanted to live in Greenwich Village since a young age. For 37 years I have lived, loved, laughed, and learned in this vibrant and colorful neighborhood! I like the Village because of its small-town atmosphere in a big city. With its irregular street plan, named streets, easy charm and human scale I find The Village comforting. After taking the Greenwich Village Walking Tour you will fall in love with it too! Please allow me to share with you New York City, the place that I call home.
 
Sibyl Groff: The Spirited New Yorker is also known as "the source" as she keeps up on activities in Gotham. Having just published "A New York Christmas- hohoho to Gothamtide," the lady in Red has lots of new data on Rockefeller Center and Manhattan attractions.  
Stanley O'Connor: I'm a Manhattan resident originally from small-town upstate New York.  Married, dog and cat owner, inveterate walker, cyclist and explorer, I  love history, talking to strangers, cracking puns, and showing people  around New York, the greatest city in the world. After working for  several years in news and PR, I became a licensed sightseeing guide in  1995. Since then I've given tours by bus, bike and on foot. I love a  good chocolate and worked up the Chocolate Lovers' Tour of Midtown  Manhattan. I know the ins and outs of Chinatown, and its shops and  restaurants. I volunteered after September 11, and tell personal stories  of the World Trade Center.  I go to the Statue Of Liberty at least 100  times a year. I designed walking tours of Central Park, High Line Park,  Greenwich Village, and Fort Tryon Park at the north end of Manhattan,  home to the medieval-themed Cloisters Museum. Let's get together, and  I'll show you this wonderful city.
 

Susan Birnbaum: Susan Birnbaum is a native New Yorker who has been walking the streets of NY forever. In 2002 she became an official New York City Tourist Guide. She founded her company SusanSez NYC Walkabouts in order to share her love of New York with all. SusanSez tours take you off the beaten path and into neighborhoods throughout NYC.
 

Susan Katz: A Guide Named Sue has been exploring and living in New York for well over 30 years. Public tours are focused on the journey to a specific destination. The destination could be a cultural event, performance, neighborhood, or attraction in any of the Five Boroughs. You can also customize a private tour with me. You choose the start and end locations and I will create the content in-between. Travel will be on foot or via public subway/bus.