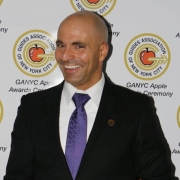 Meet our spotlight on NYC Tour Guide Mr. Oliver Grieb!
Gidday and "Grüß Gott", my name is Oli, your fun, fitness oriented, energizing and certified NYC Sightseeing Guide. I am originally from Würzburg, Germany and have been traveling and working all over the world for more than 10 years.
What is your Tour Companies Business Name?
Olidaytours
Email: office@olidaytours.com
How long have you been a tour guide?
I have been a tour guide for more than 20 years. I started working as a tour guide to musicals and to cities all over Germany, where the musicals were played in 1992. Since than I have been a skiing guide in Austria, a dive guide in Fiji, Tonga, Thailand, Greece, Australia and India, a mountain biking guide in Greece and Turkey and a NYC sightseeing guide.
What drove you to become a tour guide?
I have been a traveler my whole life and once I was old enough to be a tour guide on buses in Germany I started my career. In the beginning it was just for some extra cash, during my studies to become a teacher for children with disabilities. After my studies I started traveling and working all over the world. While I was taking people skiing one of my guest said, we should spend more time of our Holiday with Oli - so I said, why not stay for a couple more Olidays. That was it!
What is the most gratifying part of your work?
Happy guests, that become your friends especially during the private tours! Customers that are enjoying every moment of a tour - at least they look like they do ;o)
Is there a discount you want to give to our readers?
Sure! Use #GANYC-ODT for a 10% discount on any of our Olidaytours. Only good for a minimum of 2 guests!
How long have you been a member of GANYC?
A year and a half.
How did you hear or learn about GANYC?
I was looking online to find out about tour guides in NYC and found GANYC. It took me a while to be able to go to a meeting and then it took me a while to get the application back. Once I had my interview I have been attending a lot of meetings and even joined the welcome "committee".
What types of tours do you offer?
I offer a lot of different kind of tours form private walking tours, to sight running tours, all day biking tours, NYC children tours - not only in NYC, but also beyond NYC! I am actually located on Greenwood Lake in New Jersey, so I am also offering hiking tours out in the wild ;0) Besides that I run trips to the mountains of Austria (skiing) and to the Octoberfest in Munich (Germany).
How has GANYC helped you and your business?
Through GANYC I was able to connect with other guides and I was also able to get my profile up, which actually got me a couple of gigs already.
For more information about Oli or to book a tour visit his profile and website by clicking here.