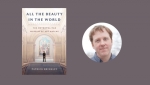 GANYC member Patrick Bringley gives great tours of the Metropolitan Museum of Art, a building he knows well from his decade as a security guard there. His experience there inspired him to write a new book-- All the Beauty in the World: The Metropolitan Museum of Art and Me-- which is out today. The book has been getting rave reviews. The New York Times states it "is an empathic chronicle of one museum, the works collected there and the people who keep it running — all recounted by an especially patient observer."

We decided to round up just some of the best press the book has received:

Congratulations to Patrick from all of us at GANYC!