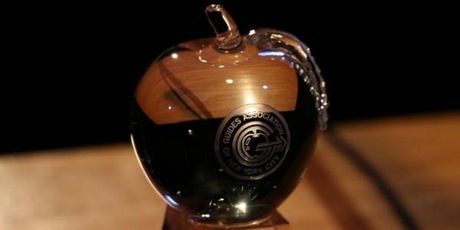 On Monday, February 22nd, 2021 the Guides Association of New York City will be hosting our 7th Annual GANYC Apple Awards online!  The show will be hosted by Eyewitness 7 News host Bill Ritter. In addition to our main 11 categories honoring NYC culture, institutions, and the arts, we will also be presenting our Lifetime Achievement Award to author, actor, and raconteur Malachy McCourt.
So we wanted to reach out to let you know about opportunities for you to promote your business to an audience of professional NYC guides, Award Nominees, Presenters and VIP Guests!

Advertisements are still-screen visuals and include voiceover introduction
(like you would find at the movie theaters before the previews start, only better!)
$25 purchases one 5-second ad.
This is equivalent to purchasing a ticket to the live awards show!
$50 purchases two 5-second ads.
Equivalent to purchasing a ¼-page ad in the printed program!
$100  purchases three 5-second ads interspersed throughout the show.
Equivalent to purchasing a ½-page ad in the printed program!
   
$250 purchases two 10-second ads - with voiceover introduction and commentary provided by you, the sponsor.
   
$500 purchases three 10-second ads with announcements and voiceover commentary provided by the sponsor and interspersed throughout the show.
$1000 purchases five 10-second, or two 15-second ads, with announcements and commentary provided by sponsor and interspersed throughout the show.

Use the menu below to make your selection/purchase:
 
After purchasing, please email your ads to: awards@ganyc.org
Payment must be processed and ads submitted no later than Monday, February 1, 2021

(Prefer to mail in a check? Download the ad sales form HERE.)

Video ads and corporate sponsorships are also available!
Please contact awards@ganyc.org for more information!

Thank you for your support, and we look forward to a wonderful event!