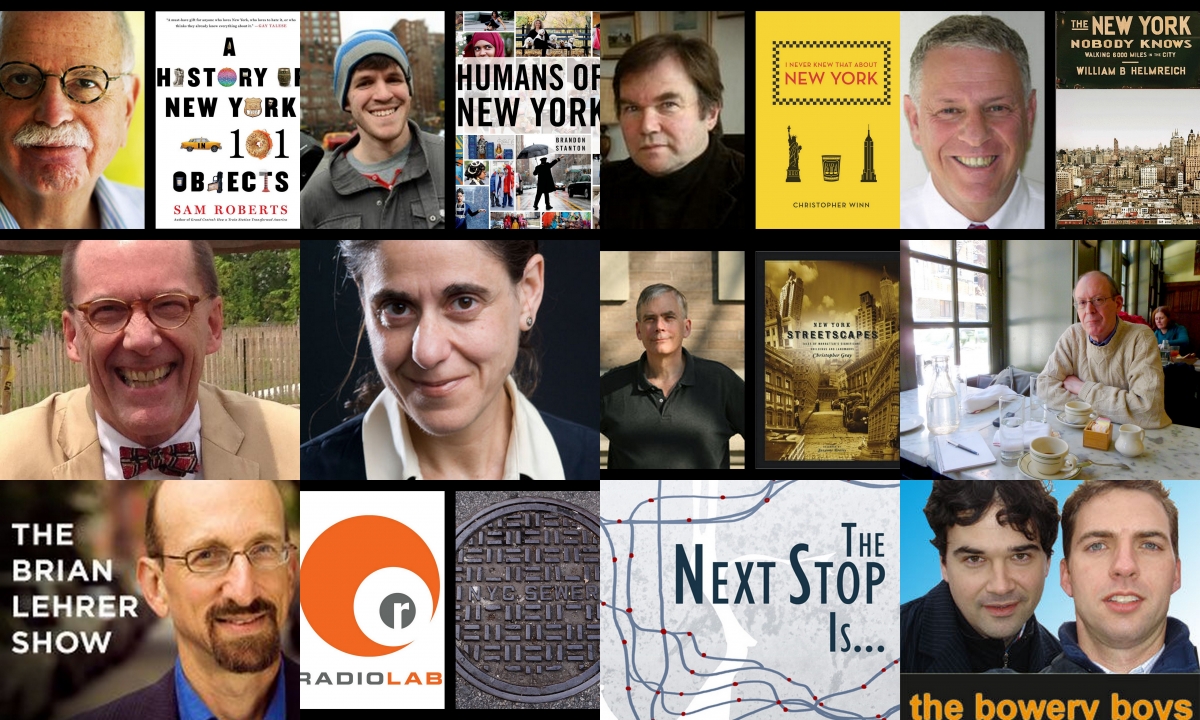 On March 2nd, 2015 The Guides Association of New York City (GANYC) presented their first-ever GANYC Apple Awards at the The Leonard Nimoy Theatre at Symphony Space Performing Arts Center, honoring accomplishments in preservation, history, museum exhibition and tourism. It was hosted by Kevin James Doyle and Olivia Petzy of the Off-Broadway hit show "How 2 B A New Yorker". 
The awards presenters were:
Laurie Cumbo (NYC Council Member 35th District, representing Clinton Hill, Fort Greene, Crown Heights, and Prospect Heights, and is the founder of the Museum of Contemporary African Diasporan Arts), Ben Kallos (NYC Council Member 5th District, representing the Upper East Side and Roosevelt Island), Simeon Bankoff (Executive Director of the Historic Districts Council, and previously worked for the New York Landmarks Preservation Foundation and the Historic House Trust), Sarah Henry (Deputy Director at the Museum of the City of New York, serves on the Advisory Board of the American Social History Project, and the editor of New York: The Story of a Great City), Ethel Sheffer (Wife of the founding Artistic Director of Symphony Space, the late, great Isaiah Sheffer), Joseph Alexiou (Author of the upcoming Gowanus: The Rise and Fall of Brooklyn's Curious Canal and is associate content editor for Time Out New York), Linda Tarrant-Reid (author of Discovering Black America and the upcoming Harlem: From Dutch Suburb to Black Metropolis), Leslie Carrol (Author of New York City novels, such as Temporary Insanity, Play Dates, and Reality Check), Don Spiro (Publisher of the magazines, Zelda and Bachelor Pad, and producer of Club Wit's End), Gregory Wessner (Executive Director of Open House New York and, previously, was Special Projects and Exhibitions Director of the Architectural League of New York). 
And GANYC Presenters were:
Amada Anderson (Founder of New York Broadway Tours), Daniel Ellis (Founder of Show Me Tours), Gary Dennis (Blog: New York Tours), Jane Marx (Blog: New York Tour Goddess), Adrienne Cooper (Founder of Fun Foodie NYC Tours), Matthew Baker (GANYC President and Founder of Beautiful New York Tours), Emma Guest-Consales (PhD in Art History, Met Volunteer, and Founder of My New York City Tours).
The ceremony was directed by Amada Anderson. Written by Matthew Baker, Amada Anderson, Olivia Petzy, and Kevin James Doyle. Stage Managed by Katy Moore. Produced by the GANYC Apple Awards Committee: Sal Balbi (chair), Amada Anderson, Matthew Baker, Adrienne Cooper, Ibrahima Diallo, Bob Gelber, Lee Gelber, Riley Kellogg; Public Relations Committee members Matt Cummings and Janet Solesky. Programs by Adrienne Cooper. Flyer by Ibrahima Diallo. 
The red carpet event featured a pre-show interview & slideshow by Fernando Natalici. Interviews hosted by Amada Anderson organized by Janet Solesky and shot by Fernando Natalici. Photography and Videography by Fernando Natalici, Ibrahima Diallo, Evgeniya Cheridy, Georgina Castanon. Live Ustream by Michael Pellagatti aka Pella Libertas and Live Twitter by Aaron Tabackman.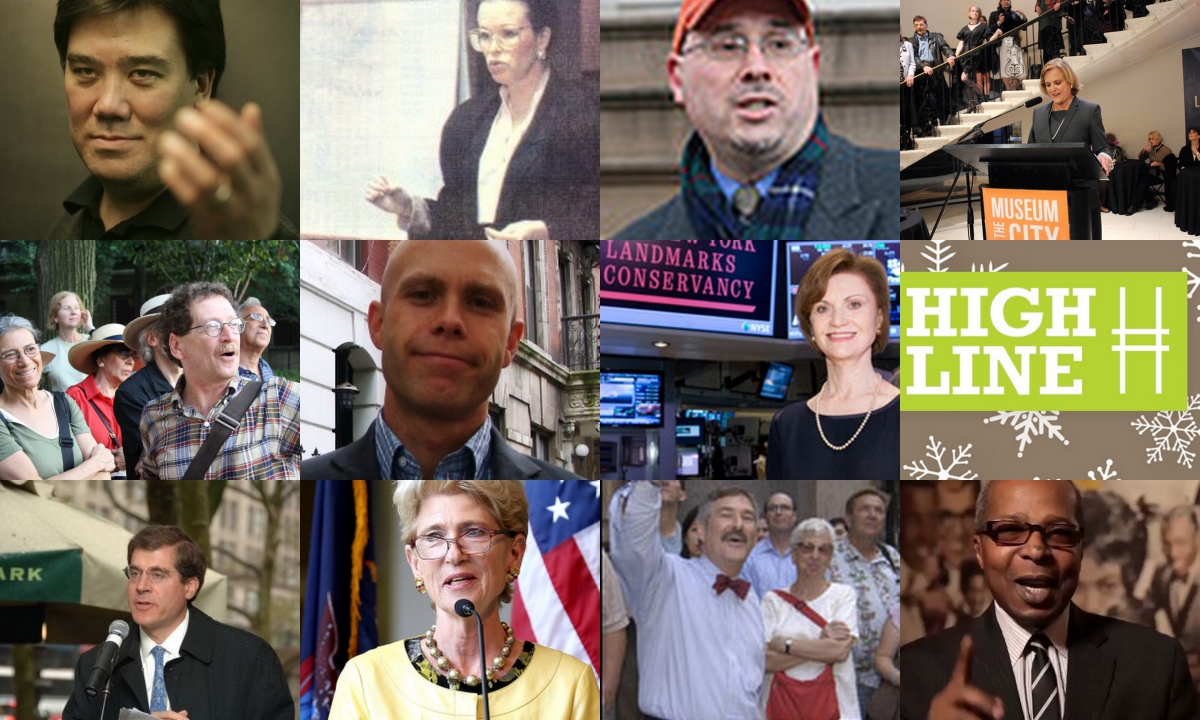 The 2015 GANYC APPLE AWARDS honored institutions and individuals who make up New York's rich culture and historical legacy. The categories include:
Outstanding Achievement in Support of New York City (Culture): 
Winner: Kathleen O'Connor, NY Historical Society
Nominees:
*Alan Gilbert, First native New Yorker to serve as Music Director of the New York Philharmonic.
*Susan Henshaw Jones, Director of the Museum of the City of New York.
*Michael Miscione, Manhattan Borough Historian.
Outstanding Achievement in Support of NYC (tourism)
Winner: Justin Ferate, Urban, Social & Architectural Historian, NYC Tour Guide, Preservation Activist
*Dan Biederman, Co-founder, Grand Central Partnership; Co-Founder & President, 34th Street Partnership; Co-Founder & President, Bryant Park Corporation
*Billy Mitchell, Tour Director, The Apollo Theater
*Emily K. Rafferty, President, The Metropolitan Museum of Art; Chairwoman, NYC & Company
Outstanding Achievement in Support of NYC (preservation)
Winner: Friends of the High Line
*Andrew Berman, Executive Director, Greenwich Village Society for Historic Preservation
*Andrew Scott Dolkart, Professor of Historic Preservation & Director of the Historic Preservation Program at Columbia University Graduate School of Architecture, Planning and Preservation
*Peg Breen, President, The New York Landmarks Conservancy
Outstanding NYC Website
Winner: Forgotten New York-Kevin Walsh
*Gothamist
*Jeremiah's Vanishing New York
*Scouting New York
Outstanding Achievement in Radio Program/Podcasts (audio/spoken word)
Winner: The Bowery Boys Podcast-Greg Young and Tom Meyers
*The Brian Lehrer Show, WNYC
*The Next Stop Is... Podcast, Second Ave. Sagas
*Poop Train Episode, Radiolab Podcast
Outstanding Achievement in NYC Food (focusing on anniversaries and special accomplishments)
Winner: Russ & Daughters; 100 years owned and operated by one family
*Katz's Delicatessen, celebrating over 125 years of service.
*Danny Meyer, CEO, Union Square Hospitality Group, controlling over 10 NYC restaurants and a catering company.
*Mario Batali, Joe Bastianich, Lidia Bastianich, Batali & Bastianich Hospitality Group
Outstanding Achievement in Book Writing (published 2013/14)
Winner: William B. Helmreich-The New York Nobody Knows
*Sam Roberts, author: A History of New York in 101 Objects
*Christopher Winn, author: I Never Knew That About New York
*Brandon Stanton, author/photographer: Humans of New York
Outstanding Achievement in Essay/Article/Series Writing (published 2013/14)
Winner: Christopher Gray, architectural historian, former columnist: Streetscapes, The New York Times
*David W. Dunlap, columnist, Building Blocks, The New York Times
*Clyde Haberman, former columnist: Breaking Bread, The New York Times
*Ginia Bellafante, columnist: Big City, The New York Times
Outstanding Achievement in NYC Museum Exhibitions (2013/14)
Winner: Palaces for the People: Guastavino and the Art of Structural Tile, March 26 - September 7th, 2014, Museum of the City of NY
*Permanent Exhibits, National September 11 Memorial & Museum
*Documenting Sandy, October 16th, 2013 - Spring 2014, Brooklyn Historical Society
*Daily Life at Sailor's Snug Harbor, Permanent Exhibit, Noble Maritime Collection at historic Snug Harbor Cultural Collection
A Lifetime Achievement award was presented to artist James Turrell who transformed the Guggenheim Museum in 2013 into a surreal cathedral of light.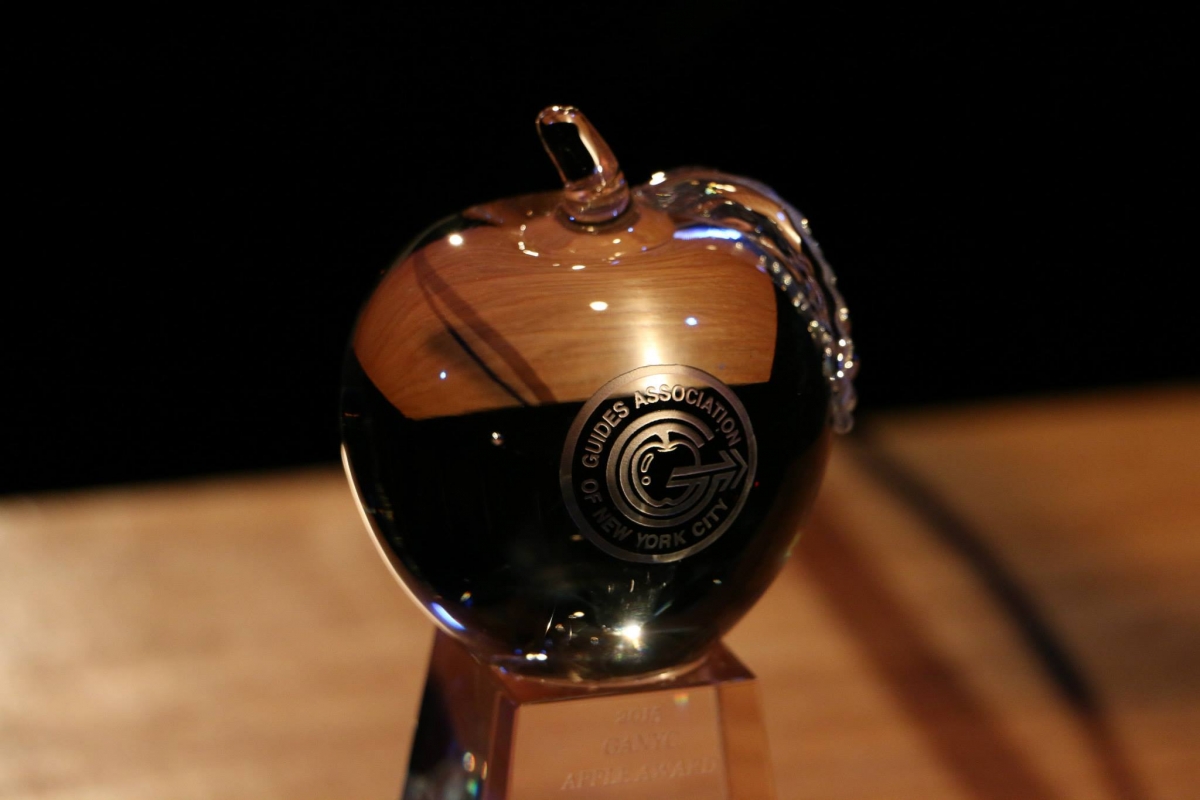 Thanks to Andrea Coyle, Ibrahima Diallo, Michael Dillinger, Scott Golden, Richard Holland, Mark Landman, My New York City Tours for photos collected for the slideshow and to our staff, Laura Caparrotti, Anita Cassinni, John Garay, Tomi Gatling, Carey Gibbs, JP Palmerio, Judy Richheimer, and Kristin Singleton.
Thanks to "Z" Travel & Leisure Show with Art & Susan Zuckerman, Janos Martin, The GANYC Podcast Committee Aaron Tabackman, Stan O'Connor, and Amada Anderson for promotion. 
Special thank you to all of our GANYC Members, Volunteers, Presenters, Nominees, Hosts and Tourism in general for an amazing night. Oh what a Night!
A memorial interlude, honoring those people and institutions NYC lost in the past year was presented by GANYC President Matthew Baker. The slide show may be seen below: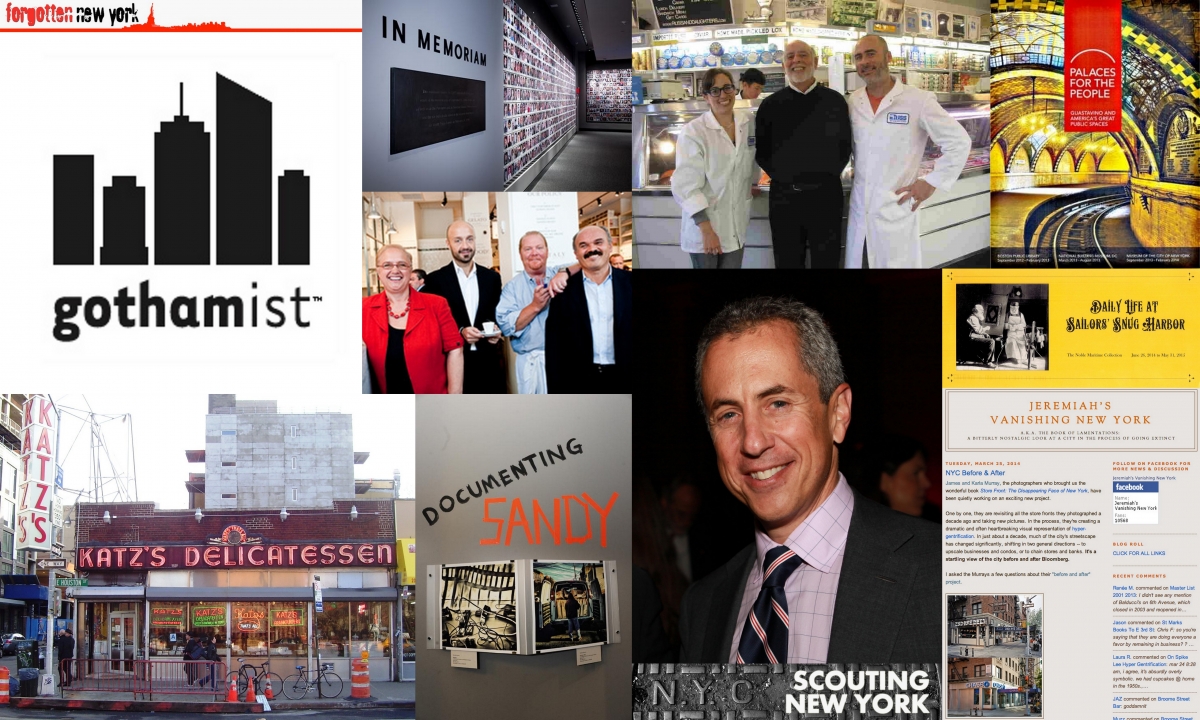 GANYC APPLE AWARDS in the NEWS! 
Bill H & Princeton Univ Press: http://press.princeton.edu/titles/10060.html
Forgotten NY: http://forgotten-ny.com/book
Bowery Boys follow-up article: http://www.boweryboyshistory.com/2015/03/a-celebration-of-new-york-city-and-the-leonard-nimoy-thalia.html
Z-Travel and Leisure:
JANOS.NYC Pre-show:
JANOS.NYC Post-show: