Spotlight on Industry Partner!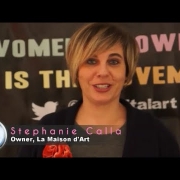 Introducing Stéphanie Calla from La Maison d'Art!
What year did your business open?
2009.
Awards and Recognitions: TripAdvisor Award 2011 to 2015, Top 10 B&Bs in NYC Booking.com Award, Customer Award 2012 to 2015
Can you tell us a little about what your business entails?
La Maison d'Art is a unique Art House, set up to accommodate not just a particular medium, but to unite artists from a variety of backgrounds: visual, spoken word, dance, film, etc. aimed to provoke discussions, debates and critique about the role of art in society. "Art is not a mirror to reflect the world, but a hammer with which to shape it". Bertolt Brecht We seek to create a space where cultural, social or political artists can present their work and to discuss, debate and critique all forms of art and from there cultural, social and political ideas as a whole. Our Brownstone is also a private showcase and Movie Location house full of local Designers decors and artists artwork, available to transport their style and art into your own home.
What is the most gratifying part of your work?
Being inspired and empowered by the energy of artists. Meeting people from all over the world and sharing our commun love for art. Being part of community activism.
What celebrities have patronized your business?
Ty Hunter (Beyoncé's personal designer)

Vera Moore

Perle Lama (singer)

Tim Brown

Senator Perkins

Gamilah Lumumba Shabazz (Malcom X's Daughter)
For more information or to book reservations check out their website: http://www.lamaisondartny.com