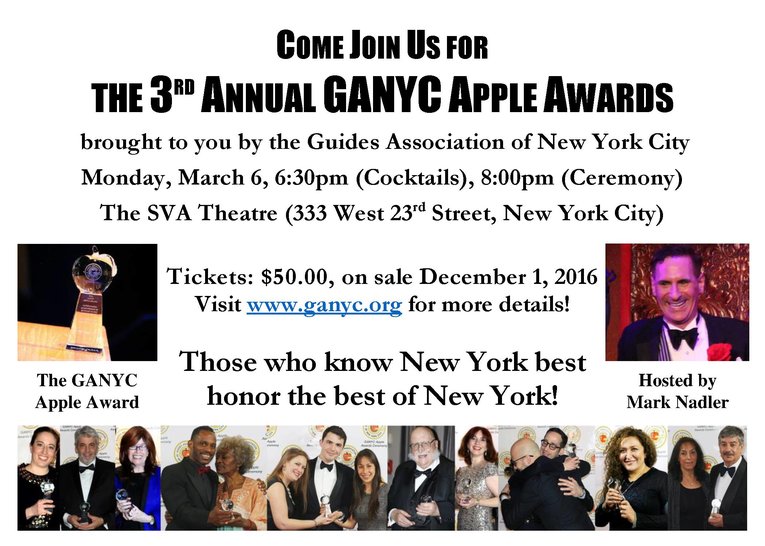 From the New York Philharmonic to Carnegie Deli to Luna Park, the nominees for the 2017 GANYC Apple Awards reflect the full spectrum of what makes New York the greatest city in the world. Sponsored by the Guides Association of New York City (GANYC), New York's professional tour guides association, the 3rd Annual GANYC Apple Awards Ceremony returns Monday, March 6, 2017 to honor organizations and individuals that encourage and promote New York City tourism, culture and preservation while supporting the work and contributions of professional New York City tour guides.
In addition to the Outstanding Achievement Awards, GANYC is proud to announce this year's Lifetime Achievement and Guiding Spirit winners.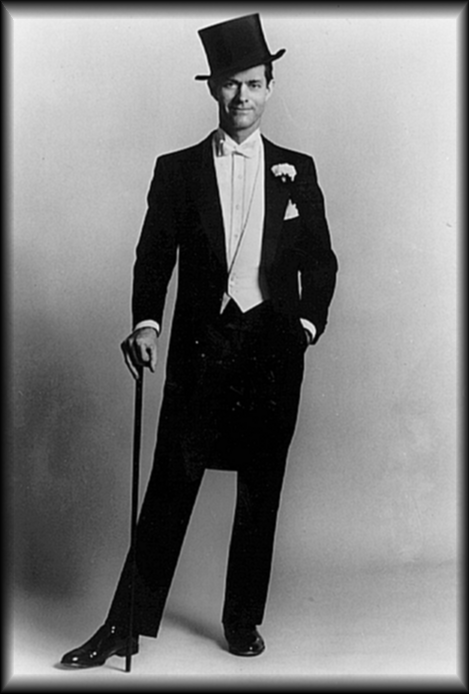 The 2017 GANYC Apple Award Lifetime Achievement Winner will be The American Songbook man himself, legendary cabaret entertainer, Steve Ross. For the past 40 years he has delighted audiences from around the world (6 continents). Among the highlights of his career include performing at the famous Oak Room at the Algonquin hotel to hosting BBC radio shows, to performing both on and off-Broadway, and even being on the roster for the Metropolitan Museum of Art. In 2015, the Manhattan Association of Cabaret and Clubs awarded him with a lifetime achievement award and this year we are proud to embrace and acknowledge his contribution to New York City.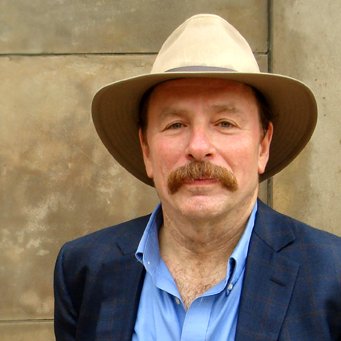 And Author, historian, lecturer and tour leader, Anthony W. Robins will be recognized as this year's 2017 Guiding Spirit. This award goes to a professional tourist guide who demonstrates leadership and mentorship for other tourist guides. Locally, Tony Robins has been giving walking tours for over a quarter of a century teaching about New York history and architecture. Nationally and internationally, he has lectured at NYU, Columbia, and most recently at the Sorbonne in Paris. He is also a veteran of the New York City Landmarks Preservation Commission, where he served as Deputy Director of Research and Director of Survey.  He has written, edited, and supervised hundreds of research and survey reports but his specialty is Art Deco architecture. He organized the city's first public tours of Art Deco for the Art Deco Society of New York in the mid-1980s, and his new book, "New York Art Deco: A Guide to Gotham's Jazz Age Architecture" is being published this spring. This award will be presented by our Education Chair and Vice President Nina Mende.
The 2017 ceremony will take place in a new venue, the SVA Silas Theater along with a new host, Mark Nadler. 
Mark Nadler is a multi-award winning, internationally acclaimed pianist/singer/tap-dancer and comedian. In 2015, he was the recipient of The Broadway World Editor's Choice Award for Entertainer of the Year. He has also performed at Carnegie Hall, on Broadway and in concert halls and cabarets all over the globe. 
Mark Nadler and Steve Ross have known each other for years for their cabaret work and are delighted to be joining us for this years Awards ceremony. So hurry up and get your tickets to join us!
Cocktails will be starting at 6:30pm, with the show starting at 8pm! Tickets can be purchased by visiting this link: https://www.eventbrite.com/e/2017-ganyc-apple-awards-tickets-29767518449

---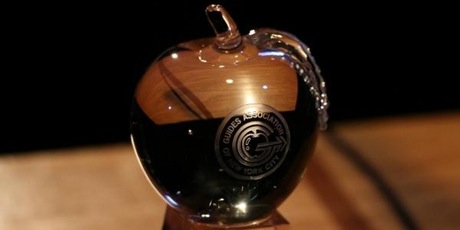 The GANYC Apple Award Nominees are:
Outstanding Achievement in Support of New York City Culture
Gene Russianoff, Staff Attorney & Chief Spokesman, Straphangers Campaign for NYPIRG
Billy Mitchell, Tour Director, Apollo Theater
Leslie Koch, President and CEO, The Trust for Governors Island
Alan Gilbert, Music Director, NY Philharmonic
---
Outstanding Achievement in Support of New York City Tourism
Evelyn Hill Inc. At The Statue of Liberty/Ellis Island Immigration Museum
Fred Dixon, President & CEO, NYC & Company
Luna Park NYC
Central Park Conservancy
---
Outstanding Achievement in Support of New York City Preservation
Bronx Zoo
Simeon Bankoff, Executive Director, Historic Districts Council
Steve Zeitlin, Founding Director, City Lore
Working Harbor Committee
---
Outstanding New York City Website
Curbed NY, http://ny.curbed.com
Beautiful New York, https://beautifulny.wordpress.com
Ephemeral New York, https://ephemeralnewyork.wordpress.com
EV Grieve, http://evgrieve.com
---
Outstanding Achievement in Radio Program/Podcasts (audio/spoken word)
The New Yorker Radio Hour, WNYC
There Goes the Neighborhood, WNYC
Inside New York Tourism, Joseph G Mauriello
Z Travel and Leisure, WVOX
---
Outstanding Achievement in New York City Food (focusing on anniversaries and special accomplishments)
Carnegie Deli
Danny Meyer, USHG, Making History in the NYC Hospitality Industry
Nathan's Famous
Eisenberg's Sandwich Shop
---
Outstanding Achievement in Non-Fiction Book Writing (published October 1, 2015 – September 30, 2016)
Store Front II A History Preserved: The Disappearing Face of New York, by James and Karla Murray
Food and the City: New York's Professional Chefs, Restaurateurs, Line Cooks, Street Vendors, and Purveyors Talk About What They Do and Why They Do It, by Ina Yalof
The Bowery Boys: Adventures in Old New York, by Tom Meyers and Greg Young
Governors Island Explorers Guide by Kevin Fitzpatrick
---
Outstanding Achievement in Fiction Book Writing (published October 1, 2015 - September 30, 2016)
The Dollhouse: A Novel, by Fiona Davis
Sweetbitter: A novel, by Stephanie Danler
The Swans of Fifth Avenue: A Novel by Melanie Benjamin
Murder in Morningside Heights by Victoria Thompson
---
Outstanding Achievement in Essay/Article/Series Writing (published October 1, 2015 – September 30, 2016)
A Walking Tour of 1866 New York: In the Footsteps of 150-year-old Guidebooks, by James Nevius, Curbed NY
Camera Obscura, by Nathan Kensinger, Curbed NY
Even in New York City, Nature's All Around Us If We Want to See It, by Ariel Lauren Wilson, Edible Brooklyn
Ian Frazier for The New Yorker
---
Outstanding Achievement in New York City Museum Exhibitions (October 1, 2015 – September 30, 2016)
Hidden in Plain Sight: Portraits of Hunger in NYC, Brooklyn Historical Society
America to Zanzibar: Muslim Culture Near and Far, Children's Museum of Manhattan
Jacob A Riis: Revealing New York's Other Half, Museum of the City of New York
Yiddish Theater From
Bowery to Broadway, Museum of the City of New York
---
Outstanding Achievement in New York City Photography (singular image, published October 1, 2015 - September 30, 2016)
Mike McLaughlin, Manhattan Bridge, Curbed Photo Pool
Nathan Kensinger, Bronx Casitas 5
Paul Kessel, Coney Island 10
Nathan Kensinger, Port Morris 3
---
The 44 nominees were determined by the GANYC Awards Committee. The GANYC membership will vote on the nominees through mid-January, with the winners announced at the third-annual gala awards ceremony on Monday, March 6, 2017 at the SVA Theatre, 333 West 23rd St. in Manhattan. The event kicks off with a red-carpet event and cocktail party at 6:30 pm. Doors to the theater will open at 7:30 pm, and the ceremony will commence at 8 pm.
For more information please contact GANYC Apple Awards Committee Chair: Adrienne Cooper at awards@ganyc.org
For Press Inquiries contact GANYC Public Relations Chair: Amada Anderson at publicrelations@ganyc.org.
Please see below for links to tickets, sponsorship, and ad sales opportunities.
2017 GANYC Apple Awards: